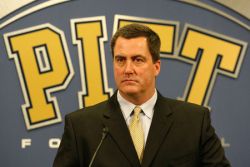 Alvarez rumored to hire Chryst to take over at UW
He's a Madison native and reportedly coming back home.
Paul Chryst is rumored to be the next head football coach for the University of Wisconsin, according to the Milwaukee Journal Sentinel.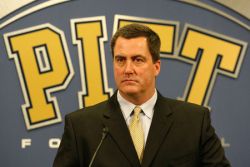 Chryst is 19-19 in his last three seasons at Pitt. The 49-year-old played for the Badgers from 1986-88 and was the tight ends coach in 2002 and returned as offensive coordinator from 2005-2011.
He's also been with the San Diego Charters, Oregon State – where coach Gary Anderson just bolted to – Illinois State and UW-Platteville.
The source who has reported this said UW athletic director Barry Alvarez, met with Chryst during a trip to Tampa Bay, Fla., for an Outback Bowl promotion. Alvarez said Thursday he would coach the Badgers in the bowl game.
Alvarez is the winningest coach in UW history (118-74-4). He also coached the team in the 2013 Rose Bowl when Bret Bielema left for Arkansas. 
"It is our practice not to comment on the personnel searches of other institutions," Pittsburgh said in a statement, according to the MJS. "Paul Chryst is the University of Pittsburgh's head coach, has been recruiting all week on behalf of the program and will begin preparations for Pitt's bowl game this weekend."
Please follow and like us: