Viterbo dominates top-ranked team, heads to final four
Up next, the defending NAIA champs 
By RICK SOLEM
SIOUX CITY, Iowa. – Friday, the Viterbo University women's volleyball team had to face the No. 1 team in the country.
No problem.
Saturday, they face the defending NAIA champions. The NAIA championships aren't supposed to be easy, but the V-Hawks are sure having to prove their way each and every match.
Viterbo is in the NAIA tournament final four – the furthest in school history.
The V-Hawks won two games Friday to get to this point. At 11 a.m. Saturday, ninth-ranked and ninth-seeded Viterbo will face fifth-ranked and fourth-seeded Texas-Brownsville (33-4) in the semifinals.
The winner heads to the NAIA championship at 7 p.m. later that Saturday at the Tyson Center.
It's been a rollercoaster couple days for Viterbo that culminated in the upset of No. 1-ranked Rocky Mountain 3-1 (25-23, 18-25, 27-25, 25-21) on Friday evening – ending its 31-match winning streak.
Earlier in the day, the V-Hawks (39-8) upset seventh-ranked Northwestern 3-1 (25-22, 27-25, 24-26, 25-23), ending its season at 33-5.
Questions loomed as to how healthy Viterbo setter Brianna Brinkman would be heading into the final two days of action. The school's all-time assists leader left the final game of pool play Thursday because of knee soreness in what coach Ryan DeLong said could be a possible "cartilage issue."
Brinkman rested and Viterbo took the loss in the final round of pool play – albeit a close match – and was "awarded" with a ninth seed out of 12 teams.
It didn't bother Viterbo. The V-Hawks disposed of Northwestern (read here) and then rode senior outside hitter Alicia Olson in the upset of Rocky Mountain (32-3).
Olson, the NAIA kills leader (and Viterbo all-time leader), dominated with 27 kills and 12 digs. She hit .229 percent.
Brinkman shined in spreading the offense beyond Olson. Teammates Sara Biermaier and Natalie Geidel had 13 and 12 kills, respectively. Brinkman finished with 54 assists and 11 digs. So much for that bum knee.
Viterbo finished with 69 kills, 28 hitting errors and a .187 hitting percentage. Rocky Mountain was much more efficient with 59 kills, just 16 errors and a .229 hitting percentage.
But the V-Hawks offense bombarded Rocky Mountain, which had players with 24 and 27 digs along with 15 blocks as a team – compared to the V-Hawks' six blocks.
Viterbo's defense was as stout against the onslaught of Rocky Mountain hits. Jennifer Krentz had 37 digs, Jess Jerde added 20, and Baylee Gross chipped in with 11. The two teams combined for 208 digs.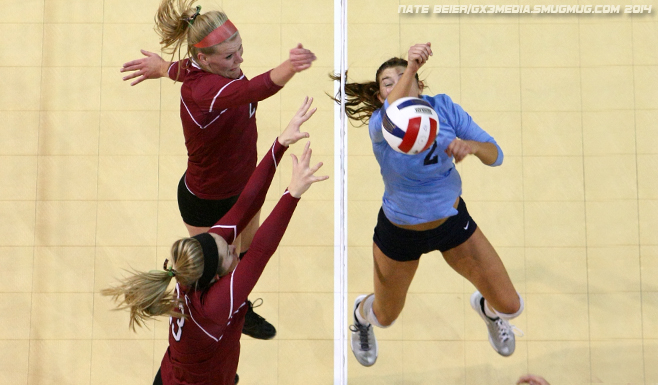 Heading into the final four, Brownsville is a team that has no standout hitter. Three players have over 300 kills led by Serbia native, 6-foot-1 outside hitter Bojana Mitrovic with 328 kills.
In comparison, Olson has 792 kills, but Viterbo also has Geidel with 436 kills and Biermaier at 389.
Mitrovic's high kills game was 24. Olson's is 35.
While Olson leads the NAIA in kills and Brinkman is fifth in assists and Krentz is fifth in digs, the only player in the Top 20 in the NAIA for Brownsville is setter Tina Sekulic. She's 12th in the nation in assists.
Something beyond statistics has Brownsville this far in the tournament. It's the defending NAIA champions for a reason. Viterbo will find out why on Saturday.
Please follow and like us: