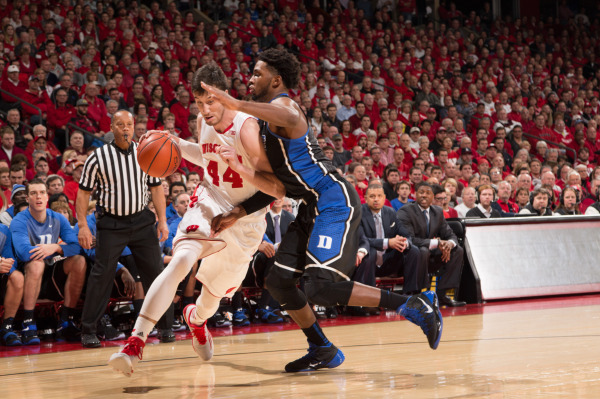 Badgers can't keep up with Duke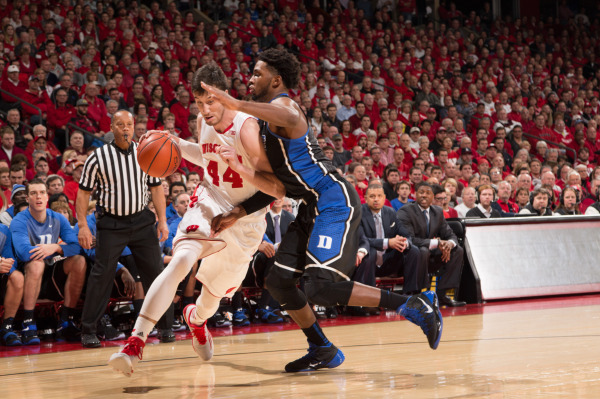 Blue Devils shoot over 70 percent in second half
By RICK SOLEM
MADISON, Wis. – In what had the makings of the best matchup of the regular season, ended up exposing the University of Wisconsin men's basketball team.
Up against No. 4-ranked Duke, the Badgers found out they have a lot of work to do on defense.
The Blue Devils got hot from outside, got to the lane with ease, made some easy shots and some tough ones in coming away from the Kohl Center with an 80-70 victory on Wednesday.
"I would say they hit some tough shots, but they have good enough players that can do that at times," Wisconsin coach Bo Ryan said of Duke, which shot 65.2 percent from the field (71.4 in the second half). "To have as many do it on the same night, that's just not fair. I don't care what anybody says, they were lights out."
The Badgers (7-1) played catch up most of the night, often trying to do too much.
"Maybe (we're) not the quickest, maybe (we're) not the tallest, maybe (we) don't have the longest arms, maybe (we) just don't have this or don't have that, but how can you be a good player or a better player if you are not as athletic as somebody else?" Ryan said. "Again, it goes back to, don't get beat by the things that don't take any talent: block out, ball fake, make good passes, handle the ball.
"I saw a couple of Globetrotter routines out there, but the problem is that we weren't playing the Generals."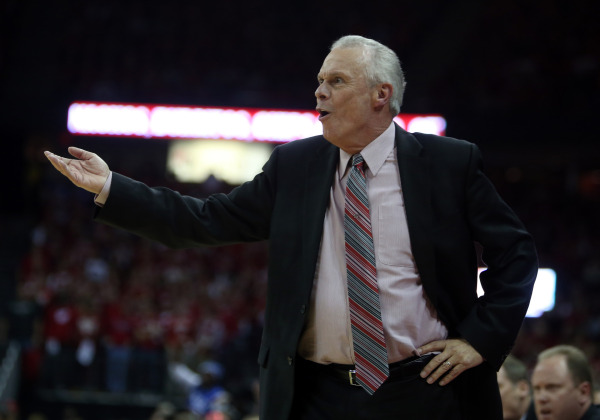 In the second half, as Duke seemingly never missed, it felt quite the opposite for the home team. Wisconsin finished just 40.7 percent from the field. The 3-pointers weren't falling – save for Traevon Jackson – and even the bunnies were rattling out.
Call it bad luck or call it fatigue, as Wisconsin was trying to keep up with Duke. After a Nigel Hayes three-point play with 15:09 remaining in the game, the Badgers never led again.
"Offensively we were trying to find ourselves," Ryan said. "We finally started to get some things going through penetration and finding open people, but it was a struggle.
"And they are better than us right now, there's no question. We've got to shore some things up, but it is a great game to have clips of things that we need to work on."
Jackson was the lone bright spot in the second half. The senior point guard finished with 25 points, going 7 of 12 from the field, 3 of 5 from deep and 8-for-8 from the free-throw line. His jumper with 10:31 remaining pulled Wisconsin within 51-49, before the Blue Devils went on a 7-0 run.
The lead never completely got away from Wisconsin, but it always was two possessions away. And, against a team that shoots over 70 percent in the second half, it's nearly impossible to overcome.
"We did a lot of switching," Duke coach Mike Krzyzewski said. "We initially were going to double (team) the post and we did and then they got 3s off of it, so we junked that after a few minutes. We just said battle in the post, and our kids battled.
"(Frank) Kaminsky is a great player. He and Jahlil (Okafor) kind of nullify each other because there's so much attention for both of them. I can't say enough about Jackson, though."
Kaminsky finished with 17 points on 5-of-12 shooting, to go with nine rebounds. La Crosse, Wis., native Bronson Koenig struggled, again, from the field, going 1-for-7. He finished with three points, two rebounds, two assists in 25 minutes off the bench.
The Kaminsky-Jahlil Okafor matchup statistically went to Kaminsky, but Okafor did get into early foul trouble. The freshman scored 13 on 6-for-8 shooting and six rebounds. The star of the game was Duke's Tyus Jones, who finished with 22 on 7-of-11 shooting. He added six rebounds, four assists and just one turnover.
Wisconsin looks to bounce back with back-to-back games in Milwaukee. First up, Marquette at 11:30 a.m. Saturday, before playing at UW-Milwaukee at 8 p.m. Wednesday. 
Please follow and like us: