Tonight: Duke-Wisconsin, Kaminsky-Okafor
MADISON, Wis. – The two best players in men's college basketball face off tonight at the Kohl Center.
At 8:30 p.m., Wisconsin 7-foot, 242-pounds senior, Frank Kaminsky will have his hands full with Duke's 6-foot-11, 270-pound freshman, Jahlil Okafor.
It's a matchup between the No. 2-ranked Badgers (7-0) and fourth-ranked Bluedevils (7-0) to kick off the ACC-Big Ten Challenge on ESPN.
If Kaminsky isn't the post with the most in college basketball, it's fellow preseason All-American Okafor that is.
Kaminsky is averaging 16.6 points on 56-percent shooting to go with 8.7 rebounds, 2.3 blocks and 1.1 steals. Okafor is averaging 17.7 points (64% FGs), 7.9 rebounds and 1.6 blocks.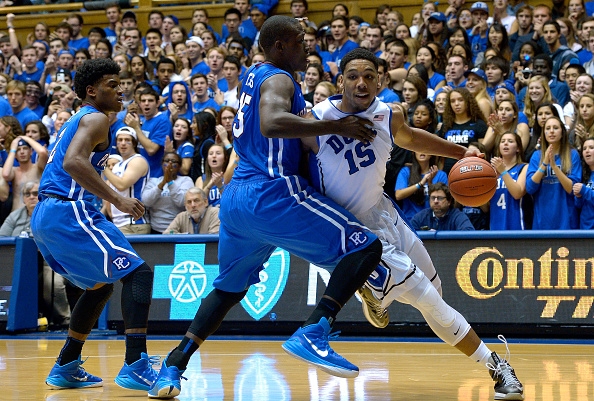 Two factors could determine this outcome – distance and size.
Kaminsky could pull Okafor out of the lane with his 3-point-shooting ability (41%), allowing the Badger guards to post up or get to the rim.
On the other end, Okafor may have his way with Kaminsky in the post because of his weight advantage.
In the Badgers' only test so far this season, Kaminsky could do very little with Georgetown's 6-10, 350-pound Josh Smith – but who can?
Now, Okafor isn't 350 pounds, but he's a better post player than Smith. Kaminsky, however, should be able to hold his own, having seen his fair share of post players in his day. The weight difference is only 30 pounds or so.
Hopefully both players can stay on the court tonight and fouls don't determine the outcome in this one. 
Please follow and like us: