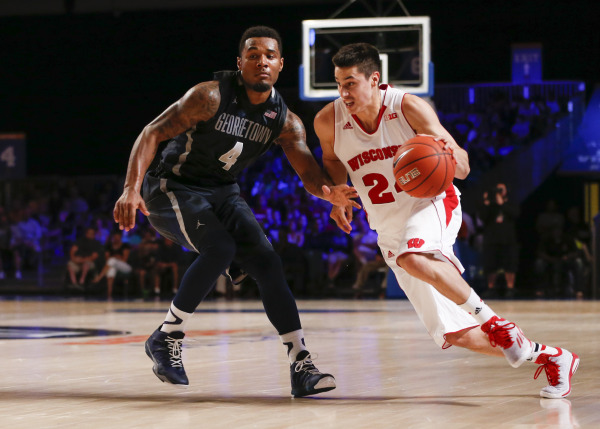 Badgers thankful for Koenig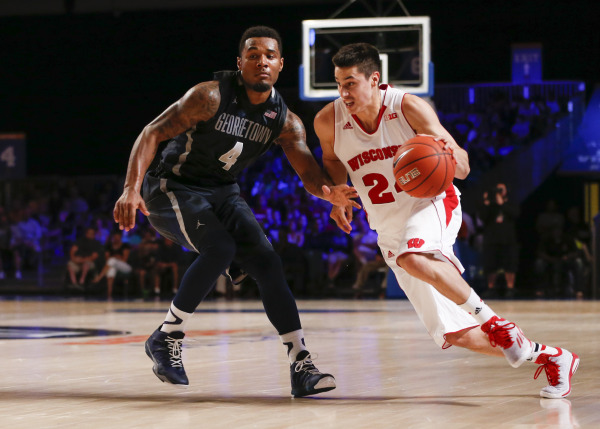 La Crosse native breaks out of slump,
ties career high with 14 points
By RICK SOLEM
PARADISE ISLAND, Bahamas – Nothing was going right for the University of Wisconsin men's basketball team.
Turnovers. Missed shots. Bad defense. Georgetown was on its way to a win. The No. 2-ranked Badgers had never trailed in the second half this season, but they were down nine and struggling.
Then, something changed. Bronson Koenig put the team on his back.
The sophomore from La Crosse, Wis., scored seven of his 14 points – tying a career high – that sparked a Badgers 22-6 run and they held on to a 68-65 victory in the Battle 4 Atlantis.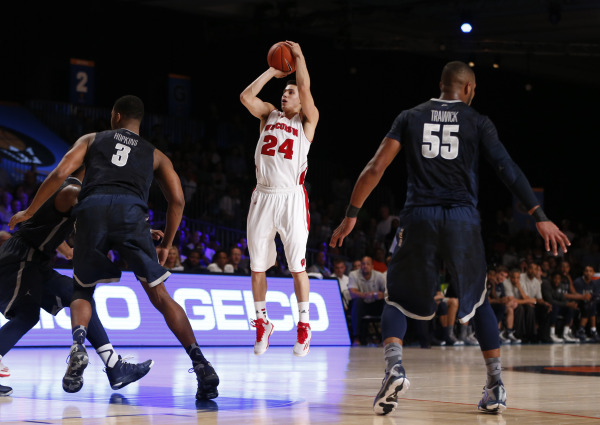 Koenig finished 6-for-10 from the field and 2-for-4 from beyond the arc, adding four assists, a big block during the run and just one turnover.
The sophomore from Aquinas High School had not been shooting well this season, but broke out in this one. Despite his struggles from the field, what's kept Koenig on the court this season – he's seventh on the team in minutes – has been the little things.
He came into the matchup with the Hoyas (4-1) shooting just 33 percent and 18.2 percent from beyond the arc. But he also had 11 assists and just two turnovers. And he broke out of his shooting slump right when the Badgers needed it most.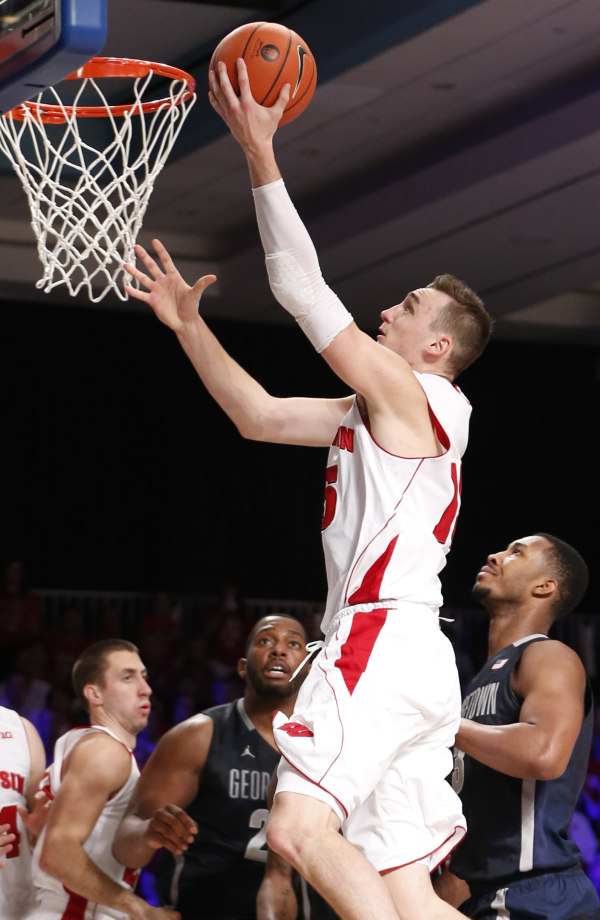 Wisconsin (5-0), which plays Oklahoma at 4:30 p.m. today, came out of the locker room at half just fine. Sam Dekker nailed a jumper to put it up 37-34, before things went sour.
Back-to-back misses preceded three consecutive turnovers by Wisconsin as Georgetown built a 53-44 lead on a 17-6 run with 11:36 remaining.
The Wisconsin run got started on a Koenig assist to Dekker for a dunk. It was capped off by a Koenig jumper followed by another Dekker dunk, off a Koenig missed 3-pointer – even Koenig's missed shots came up gold for Wisconsin.
Koenig did foul Paul White with 50 seconds remaining on a 3-point attempt. White made all three free throws to pull within 66-65. The Badgers ran down the clock to 20 second before an incredible Hayes tip in gave them a three-point cushion. In those final 20 seconds, Georgetown didn't get a shot off until a game-tying 3-point attempt at the buzzer.
Dekker finished with 17 points, while Hayes had 15. Frank Kaminsky struggled mightily against 6-foot-10, 350-pound Josh Smith. The Badgers' 7-footer was just 1-for-8, scoring six points to go with four rebounds.
Behind Smith, the Hoyas won the points in the paint 32-22. D'Vauntes Smith-Rivera, who missed the tying 3 at the buzzer, was, ironically, 5-for-6 from beyond the arc. He led all scorers with 29, going 11-for-18 from the field.
Georgetown shot 25-for-47 from the field (53.2%), while Wisconsin finished 21-for-43 (48.8%) from the floor. The Badgers shot just 10-for-23 (43.5) from the field in the first half, yet led 35-34 thanks to a Koenig jumper with 3 seconds on the clock.
Please follow and like us: