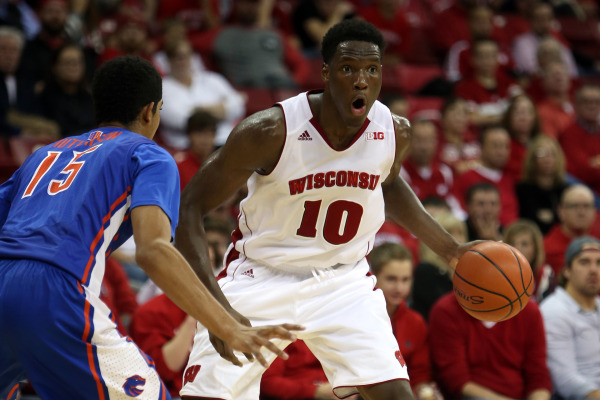 Bo on Kaminsky missing two shots: "We had to talk about those."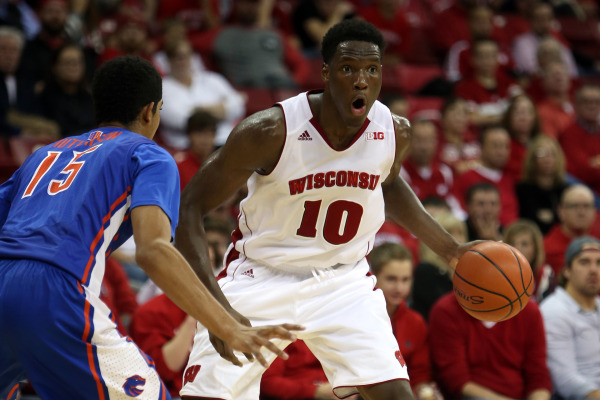 La Crosse's Koenig scores 7 off bench
Frank Kaminsky missed two shots on Saturday. Wisconsin men's basketball coach Bo Ryan let him have it.
"On those two shots he missed, we had to talk about those," Ryan joked as Wisconsin beat Boise St. 79-54 getting 26 points on 11-of-13 shooting from the 7-foot Kaminsky. "It's awfully nice to have a big that can make good decisions and that can help defensively. His all-around game just keeps getting better."
Kaminsky was 4 of 5 from beyond the arc and one of five Badgers (4-0) to grab five rebounds.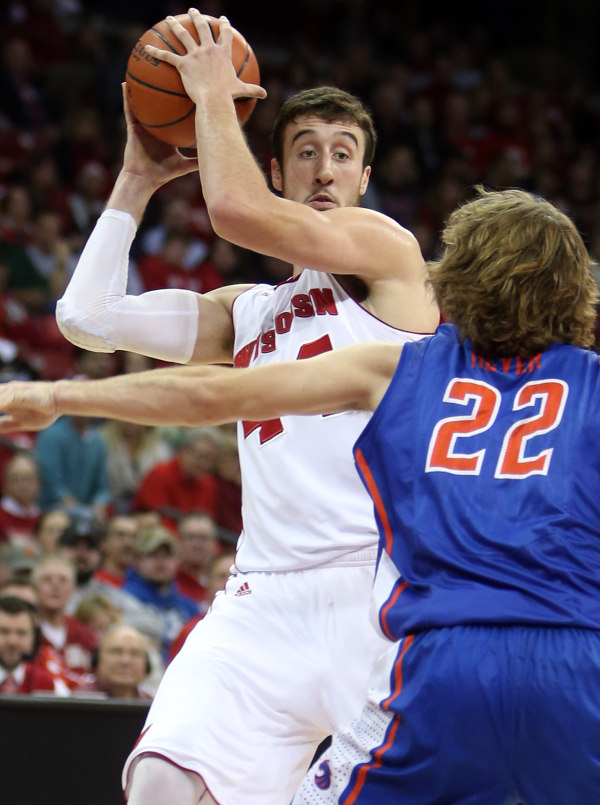 "I was getting some open looks," said Kaminsky, who added three blocks and two steals and scored 20 points or more in consecutive games for the second time in his career. "My teammates were doing a good job of finding me on some 3s. I was able to get some stuff to the rim so it was just going well."
La Crosse, Wis., native Bronson Koenig scored seven in 15 minutes off the bench. He was 3-for-4 from the field – 1 of 2 from deep – and added two assists and a rebound, along with one turnover.
Boise St. (3-1) shot just 42.9 percent and was down 38-24 at halftime after the No. 2-ranked Badgers went on a 16-6 run to end the half.
"Watching Wisconsin on tape is … you don't know what you're getting into until you get here," Boise St. coach Leon Rice said. "Just the way they play, I'm looking around here to find a weakness, and I'm not sure I can find anything.
There (are) a lot of teams that are ranked high to start the season, and they're ranked on potential, but I said, this is not one of those. This is a team that's clicking and they know how to play and knows how to play together, and you can't get them out of what they do. Really impressive." 
Nigel Hayes scored 15 on 4 of 6 shooting and Traevon Jackson added 11. The Badgers shot 55.4 percent from the field – the third game in a row over 50 percent – and 10 of 27 from beyond the arc. 
Please follow and like us: