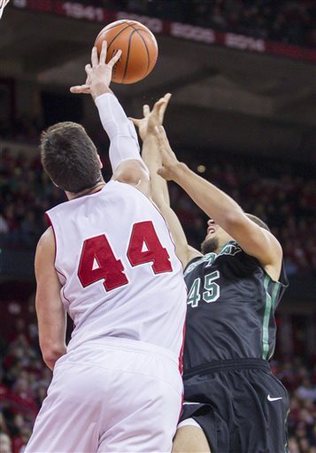 Kaminsky nearly has triple-double for Badgers
By RICK SOLEM
The headlines mostly read Nigel Hayes leads the University of Wisconsin-Madison men's basketball team, but it was Frank Kaminsky that nearly had a triple double.
The 7-footer had 20 points, 15 rebounds and seven blocks in an intrastate rivalry that, this time, didn't go down to the wire. The No. 3 Badgers beat UW-Green Bay 84-60 at the Kohl Center on Wednesday.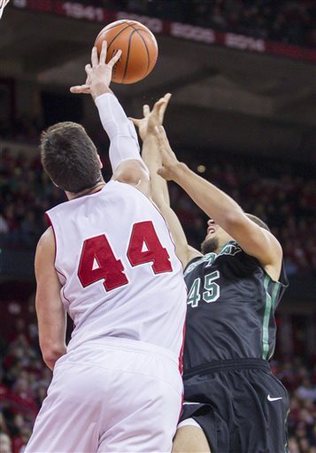 Last year, this game was close as Phoenix point guard Keifer Sykes had 22 points, going 2-for-3 from beyond the arc. He needed to go 3-for-3, however. His tying 3-pointer at the buzzer rattled out and the Badgers won that one by three.
This season, a completely different story. Kaminsky was solid as usual, while Hayes had a career-high 25 points on 8-of-11 shooting to go along with 11 rebounds.
La Crosse, Wis., native Bronson Koenig played 19 minutes off the bench. The sophomore was 0-for-4 with five rebounds, two assists, a steal and zero turnovers.
Sykes had another good game for UW-GB (1-1), going 9-for-17 in scoring 20 points.
It was 38-29 Wisconsin (3-0) at halftime. The Badgers finished shooting 52 percent from the field and holding UW-GB to just 35 percent. They also outrebounded the Phoenix 45-31.
Oddly enough, both teams had 36 points in the paint, but Wisconsin held the second-chance points advantage 13-7.