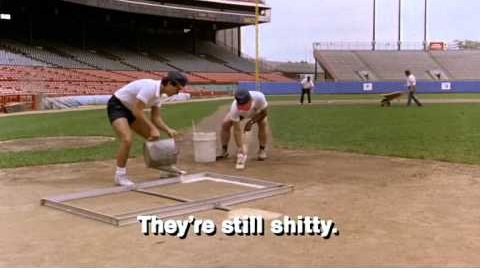 Are the Brewers for real or still shi**y
By RICK SOLEM
It's come to the point in the season, where everyone starts to believe.
The pitching has been steady for the most part. The hitting has been better than expected. The injuries have mostly been minor.
Yet, something about the Milwaukee Brewers may make you feel like the grounds crew from the movie Major League. 
It doesn't matter how successful the Brewers are, you still think …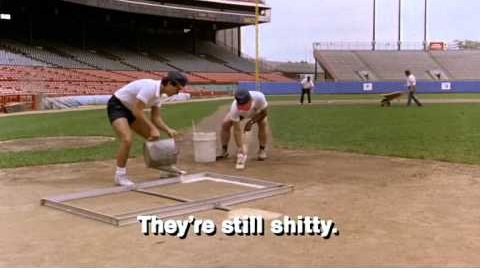 And now it seems as though things are becoming a bitter reality. Maybe they are still shi**y.
For the second time this season, the Brewers have lost four of five, including four in a row. It would have been six losses in a row save for Matt Garza's first complete game since back-to-back starts in September of 2011.
This team got off to its best half of baseball in Brewers history with a 49-32 record. The best start in team history (47-34) before that happened twice, and the end results were quite different. It seems as though this team could head in either direction.
The 1979 squad – comprised of players like Paul Molitor, Cecil Cooper and Robin Yount – finished 95-66, but didn't win the pennant for three more years. This was before baseball's expanded playoff system.
The 2007 team – made up of up and comers like Prince Fielder, Rickie Weeks and Ryan Braun – all but collapsed in the second half of the season, going 33-45. That team made the playoffs the next season – the first time since 1982.
Are this year's Brewers headed for collapse? Was the question from Sports Illustrated: "Is this the best Milwaukee Brewers team ever?" a bit ridiculous to ask?
As we all know, baseball is a long season. Despite losing four of five, Milwaukee still has the best record in the NL and second best record in the MLB to Oakland – which just got a lot stronger trading for Jeff Samardzija.
There have been talks that Milwaukee will make a similar trade to acquire a big name, like it did in 2008, getting CC Sabathia. That name, Tampa Bay's David Price, perhaps.
"I'm always open for anything," Milwaukee GM Doug Melvin told the Milwaukee Journal Sentinel. "There's probably a lot of similarities in David Price and Sabathia (in 2008). Their records are probably pretty close to what CC's was when he was traded."
Price would come at a … price. He's not about to become a free agent like Sabathia was in 2008. Melvin isn't ready to get rid of the assets it would likely take to get him.
"We're not going to deal the young impact player to help our big club now," Melvin said. "It's going to be tough to do that. I think we do have a lot of players in our system that will play in the big leagues."
But that's like saying going all-in on this year's Brewers isn't a safe bet. And, perhaps, that's right, because, even with Price, Milwaukee doesn't quite match up with, say, an L.A. Dodgers staff that consists of Clayton Kershaw, Zach Greinke, Hyun-Jin Ryu and Josh Beckett.
What Milwaukee is, is a great regular-season team – solid everywhere, not exceptional anywhere. And that doesn't always translate well in baseball's playoffs.
When trying to point to the strong suit of this team it may be just that, "a team." Nothing stands out. Nothing is terrible. The top three starters are all interchangeable. You wouldn't take Kyle Lohse, Garza or Yovani Gallardo over one another, necessarily. 
The offense is as balanced as ever, yet all over the place. 
Five players have over 40 RBI and another five have double-digit home runs. But their best hitter (Braun) and most-experienced hitter (Aramis Ramirez) have each missed over 20 games. Jean Segura has been a near bust (.234 BA, .270 OBP this season, .294-.329 last season).
On the flip side, Carlos Gomez is making a case for MVP, batting .299 with 13 HR and 14 SB and his biggest competition for the honor may be teammate Jonathon Lucroy, who is second in the NL in batting (.329), not to mention his ability to handle the pitching staff.
Then there are youngsters Scooter Gennett (.305 BA) and Khris Davis (14 HR) who haven't dropped off yet, as young players often do. 
It all seems poised to … what? Keep churning out wins with above-average, yet not elite talent from top to bottom or will they bottom out with, perhaps, one harsh injury.
If that happens, instead of going out and getting an arm like Price, maybe the Brewers become sellers before the trade deadline – probably Francisco Rodriguez, who will be a free agent. 
But that doesn't make sense this season, because nobody else of consequence is coming off the books. Ramirez, who makes $16 million this year, has a mutual team/player contract for $4 million next year. It seems as though the 36-year-old all-star would leave. As could Rickie Weeks, though he will most likely take his $11.5 million player option for 2015.
Lohse ($11 million next year) and Gallardo ($11.5 million next year) will be free agents after 2015.
Milwaukee also has 25-year-old righty Jimmy Nelson waiting in the wings. He made a spot start in late May against Miami and struck out six and walked three in 5⅖. He gave up five hits and no runs. An all-star at Triple-A Nashville, Nelson is 10-2 with a 1.56 ERA – 110 strikeouts, 30 walks in 104 innings.
It all points to the Brewers doing nothing this season in the trade market, which probably means they do nothing, again, in the playoffs – if they do make the playoffs. Standings mean so little with over 70 games to play, but Milwaukee is 4.5 games ahead of Pittsburgh and 5 games ahead of St. Louis in the division. 
The Pirates seems to get nothing but better, while the Cardinals keep tailing off – losing starter Jaime Garcia for the season and, perhaps, starter Michael Wacha, who just underwent an MRI on his shoulder. And that's not even mentioning Cincinnati, which sits quietly in fourth place, just six games back with, maybe the best one-two punch in baseball – Johnny Cueto and Mat Latos.
Time will tell, a long time – 73 games to be exact – before we can decide whether or not this Brewers team is still shi**y. 
Please follow and like us: